---
Around 5 months ago I've decided to make my first experience with Options Trading. During the first lockdown due to COVID, I have ordered several finance books, including one related to options. Honestly, this topic is very overwhelming if you never heard about it. To better understand what I went through, you need to understand some basics.
---
What Is An Option?
Many definitions you can find on Investopedia or other pages, did not help me at the beginning, because I simply did not understand it. I try to explain an option with an example. Let's say the Apple Stock $AAPL is at 100$ right now. Now there are two possibilities – either you want to buy an option or you want to sell an option – two different things. In this definiton, I'll stay on the buyer side.
Apple is now at 100$ per share. Now you buy an option call with an agreed price of 100$ for each Apple share. This would give you the right to buy one share of Apple for 100$. In addition to this agreed price, you agree on a expiration date. For example a 100$ option with expiration date 6th November 2021. This package of agreed price and agreed expiration date cost you a specific amount of money. Let's say 500$. 1 Option contract is 100 shares. So you have the right to buy 100 shares of Apple for 100$ each, until 6th November 2021. This is also called a "100$ AAPL CALL 11/06 2021".
What Now?
Now let's assume two scenarios. It's 5th November 2021, one day before expiration.
The price for an Apple share went up to 200$. This means you could buy right now 100 shares of Apple for 100$, even the price is at 200$.
That means, you paid upfront 500$ for the option, but saved 10000$ for buying 100 shares.
The other scenario is the opposite. The price for an Apple share went down to 50$. In this case, you would just don't act on your option and let it expire. That means, you paid upfront 500$ for the option and did not get back anything.
There are so much more parts to consider, but this should give you a first idea of what an option is and if you would like to learn more about it. There are several free books in the kindle store and I recommend you, to check out the free stuff first. One book I bought and started to read is: Option Volatility and Pricing: Advanced Trading Strategies and Techniques (*amazon affiliate link).
---
How To Find Good Stocks?
One of my experience with options trading is that you need to be able to read stock charts and know many of the indicators available out there. If you want to buy a "call" option, you bet the stock price will go up. When you buy a "put" option, you bet the stock price will go down. If you don't know how to read a chart, you may buy at the wrong time for your desired outcome.
Here is a short list of definitions of interesting criteria:
Simple Moving Average (SMA): Average of a price over a specific range of days.
Relative Strength Index (RSI): Helps to identify if a stock is overbought or oversold.
Moving Average Convergence Divergence (MACD): Another criteria which helps if the stock should be a buy or a sell.
With the help of stockcharts.com, you can find the chart of every stock. Here is for example, the chart of the Apple stock ($AAPL) from yesterday.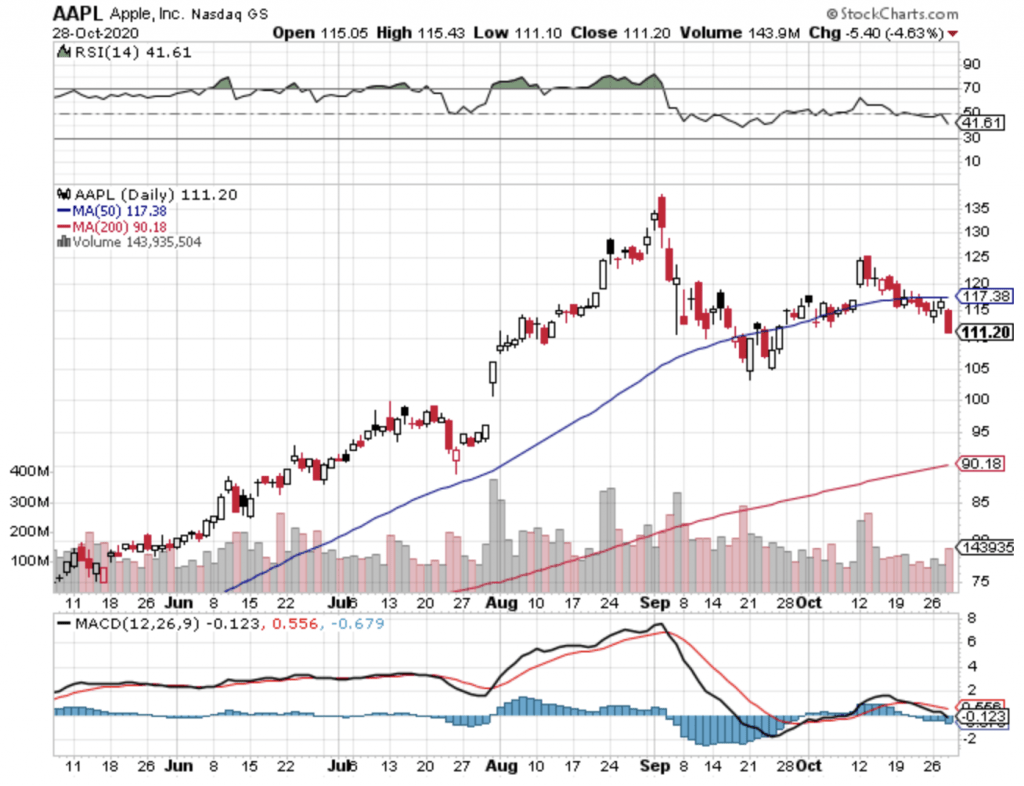 It is not easy to find the right stocks. In a video course I've studied, someone said, that you should buy only options for stocks, that you also really want to own. You should not gamble and you should analyze the financial situation of each company by your own.
---
How Can I Trade Options?
If you are based in the US, there are many platforms, where you can buy options. For example Webull.
Should you been based in Europe, as I am in Germany, you can use the Interactive Brokers platforms. I've opened my account at Captrader. There are many resources on the Internet to find the best platform based on your location.
---
My Experience With Options Trading
At this point, I want to share my feelings with you about options. Honestly, it can be really exhausting. I see the real difference now between Investing and Trading. I am a dividend investor and I really love it. It is so much easier and with many less sleepless nights. Everybody has to make his own experience with options trading, but I had days, where I did not put my phone down, because I was checking the stock prices almost every five minutes, to check if my option is doing well or not.
Some Examples:
1) I bought a CALL option for $AAPL with a price of 111$ with an expiration date of 2 weeks out. The price was not really moving up. I've sold my option 3 days before expiration, to avoid to lose money. One day later the price went up to 116$. I missed out on those gains.

2) I bought a CALL option for $DKNG. The price went up and I was already 50$ in profit. I waited to sell it at that day and next day I needed to sell with 100$ loss.
These are just some of my experiences with options trading. Currently I am spending more time to study "Covered Calls" and how it could help me with securing my dividend portfolio. As mentioned before, my first feeling is that options trading is exhausting, but if you follow a specific strategy you might be successful. On the Internet, I follow a few people from Germany who are following a successful strategy – https://www.junginrente.de and https://mission-cashflow.de . I am also updating my Stuff-I-Love page frequently with new resources I found on the Internet.
I would be happy to get your feedbacks on options trading. Feel free to drop me an email or write a comment. Stay safe and healthy!
---
Join my weekly E-Mail Report "Wisdom Wednesday"
During the week I am reading different articles and listening to podcast. In my weekly e-mail report "Wisdom Wednesday" I am going to send an email every Wednesday to you with all interesting articles or tools I found during the last week. I am sharing / advertising the article of other bloggers. In that way I can make sure that everyone is getting the best resources available on the Internet.
---
---
The following two tabs change content below.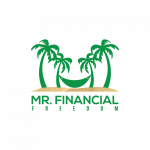 Mr. Financial Freedom
Mr. Financial Freedom was created by Daniel (30-something) who got inspired by many very popular money blogs. Daniel is from Germany and currently employed as a Computer Engineer and started 5 year ago the road towards financial freedom. His goal is to reach financial freedom with a 4 step plan. Check the "About" page for more information.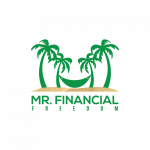 Latest posts by Mr. Financial Freedom (see all)